Black Box
Crash Data Retrieval in Passenger Vehicles
Most passenger vehicles are equipped with airbag systems that are controlled by modules that contain an Event Data Recorder (EDR). The EDR is capable of recording data during a crash event. The data may be retrieved after a crash using a commercially available tool. The EDR may record deployment or non-deployment events. This means that the airbags do not have to be deployed during a crash for there to have been data recorded. The data may include crash severity (Delta-V) as well as pre-crash data such as vehicle speed, engine speed, throttle position and brake application. Other vehicles may record crash related data by other means such as the Powertrain Control Module (PCM) in some Ford vehicles.
Crash Data Retrieval in Heavy Trucks / 18 Wheeler Tractors
Heavy trucks are equipped with Engine Control Modules (ECM) that monitor and report conditions of the truck such as fuel consumption, miles driven and oil pressure. The ECM is also capable of recording data during a crash event. Vehicle speed, engine speed, throttle percentage, cruise control, braking and other variables are typical parameters reported during a crash involving a heavy truck.
Crash Data Interpretation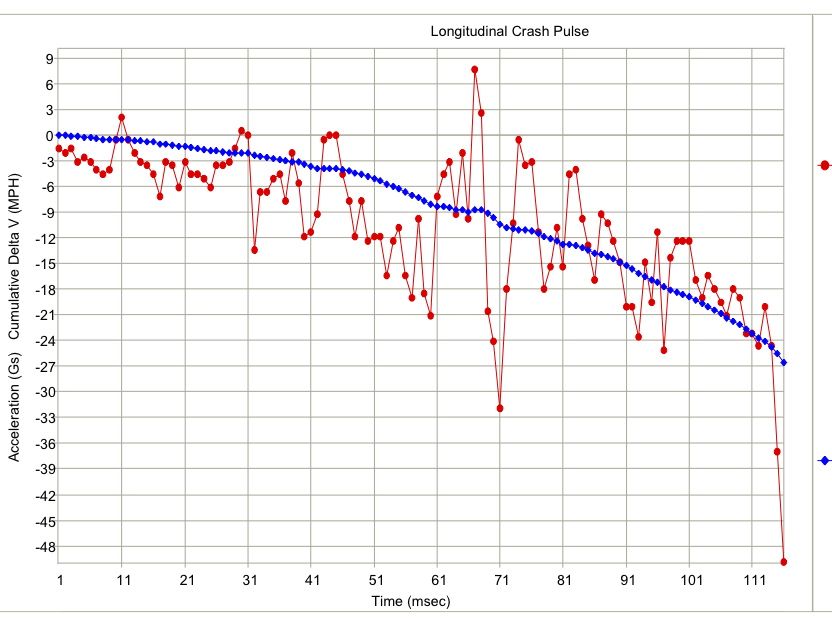 Data collected from passenger vehicles and heavy trucks is utilized to corroborate with the results of the accident reconstruction. Once it is determined that the data is representative of the physical evidence of the crash, the evaluation of other factors such as timing and position of a vehicle prior to impact or whether a vehicle stopped at a signal light may be made. Data that is collected from an EDR or ECM module may sometimes be proven to have inaccuracies due to such things as a vehicle malfunction, from the method used to collect the data or from circumstances surrounding the nature of the crash event itself. A proper interpretation of the data and the association of the data with the results of a reconstruction based on physical evidence is critical.